In a groundbreaking move for the sustainable lithium battery recycling industry, Aqua Metals has announced a strategic partnership with Yulho Co., Ltd., and its subsidiary Yulho Materials. This partnership holds immense strategic significance for Aqua Metals, paving the way for accelerated growth and expansion into global critical mineral markets.
Below, we highlight the partnership in greater detail and discuss its implications for Aqua Metals as we continue to expand our operations.
Transforming the Industry Through Strategic Partnerships
Aqua Metals' engagement with Yulho adds to its growing network of industry-leading strategic partners across the lithium battery supply chain.
Aqua Metals has forged partnerships with key partners like 6K Energy and Dragonfly Energy, creating a network of innovative customers for the low-carbon materials we produce. These partnerships ensure that  the low-carbon materials and critical minerals we produce can be used to manufacture advanced lithium batteries here in the US – creating a circular supply of sustainable lithium battery materials domestically.
The collaboration with Yulho adds another critical layer to Aqua Metals' strategic partnerships, expanding the company's reach into South Korea's thriving EV and critical mineral ecosystem, and strengthening our presence in other markets across Asia, and in the future, the European Union.
Yulho's established connections and expertise provide Aqua Metals with an unparalleled opportunity to grow into these new markets and foster relationships with the world's largest EV and battery manufacturers.
Yulho's presence in South Korea – one of the world's leading hubs for electric vehicles and critical minerals – is particularly significant. With a booming electric vehicle industry and a strong focus on clean energy technologies, South Korea is an optimal location for Aqua Metals' low-carbon solutions to establish a solid foothold. At 8,000 tonnes of material per year, Yulho is already constructing Korea's largest battery recycling facility, with plans to soon expand to 24,000 tonnes a year.
Yulho's presence in this critical market will mark Aqua Metals' entry and position the companies as key players in South Korea's sizeable lithium battery industry.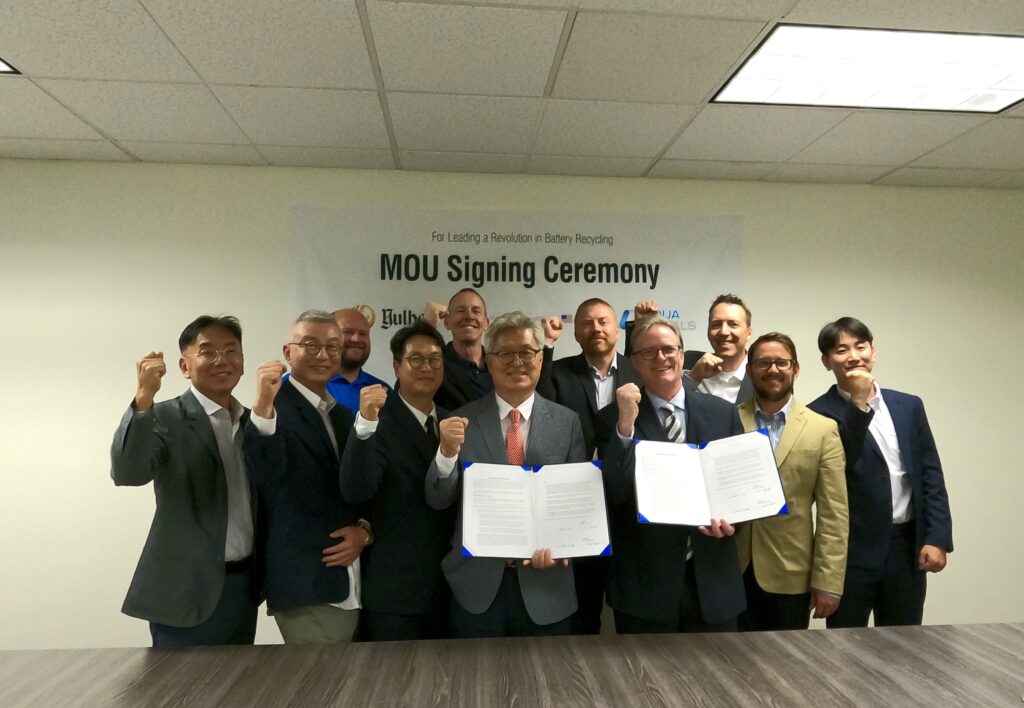 Unleashing Commercial Opportunities and New Revenue Streams
The partnership with Yulho also represents a significant milestone in Aqua Metals' commercial journey. By expanding their network of strategic partners, Aqua Metals secures a diverse array of opportunities for future growth and market expansion.

In addition to broadening our reach into new global markets, this is Aqua Metals' first licensing agreement for its revolutionary Li AquaRefining technology, which will create a new revenue stream for the company in the future. Moreover, Yulho's established partnerships for hard-to-obtain manufacturing scraps and end of life batteries for conversion into black mass ensures a healthy supply of raw materials necessary for the partnership to succeed.

Aqua Metals and Yulho are currently negotiating arrangements and expect to include a license to recycle up to 100,000 tonnes of black mass per year in South Korea using Aqua Metals' patented AquaRefiing technology. At roughly $20,000 per ton in value, this represents a $2 billion per year revenue opportunity that the companies would share in from just South Korea. Over time, the companies will also explore expansion into other Asian and European markets, opening multi-national growth and revenue opportunities.

Additionally, both companies share a vision of reducing environmental impact throughout the complete circular battery lifecycle. Aqua Metals' AquaRefining process and Yulho's proprietary black mass technology complement each other, creating a closed-loop system that minimizes waste, carbon emissions, and chemical usage.

This combination of two low-carbon solutions ensures compliance and competitiveness as countries continue to tighten regulations and environmental standards for the lithium battery supply chain. The current solutions using either smelting or intensive chemical processes are not viable in a climate-constrained world due to excessive pollution and unmitigated chemical waste sent to landfill.
Financial Empowerment and a Clear Path to Success
The Aqua Metals-Yulho partnership also fortifies Aqua Metals' financial position. Yulho's $5 million equity investment, combined with the additional funding raised this week, provides Aqua Metals with the necessary capital to accelerate the journey towards commercial-scale operations. This infusion of funds empowers Aqua Metals to expedite the expansion of its recycling facilities, enhance operational efficiency, and scale its operations to meet the growing demand for sustainable battery materials.
On a commercial scale, Aqua Metals will generate revenue and position itself for additional non-dilutive debt financing options. The ability to secure debt financing is a crucial milestone for Aqua Metals, enabling the company to invest in cutting-edge technologies, expand its capacity, and further optimize its processes. With a more robust balance sheet, Aqua Metals can confidently explore debt financing options that offer favorable terms and propel the company towards sustainable growth.
The new partnership, coupled with the company's successful equity raise, propels Aqua Metals into a position of financial strength and strategic advantage. The capital infusion allows Aqua Metals to accelerate its commercial-scale operations, move towards increased revenue, and explore non-dilutive debt financing options.
The Future of Sustainable Battery Recycling
In summary, the Aqua Metals-Yulho partnership ushers in a new era of sustainable lithium battery recycling. This transformative alliance empowers Aqua Metals to expand its global reach, tap into new markets, and forge connections with major players in the EV and battery industry.
Commercially, the partnership opens doors to diverse opportunities, including licensing agreements and a strengthened supply chain.
Financially, Aqua Metals is poised for success, with enhanced financial stability, future access to non-dilutive debt financing, and potential grant funding from the federal government.
The Aqua Metals-Yulho partnership exemplifies our commitment to sustainable innovation and further reinforces Aqua Metals as a global leader in the critical mission of recycling lithium batteries while fostering a sustainable future for generations to come.